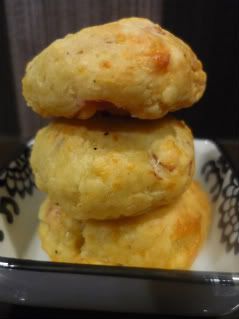 In case you haven't figured it out yet, I love chocolate. But I also love cheese - the stronger and smellier the better. I could quite happily subsist on a diet of chocolate and cheese in their many forms. It would be wonderful. Anyway, what I'm trying to say, is that this next recipe showcases delicious, delicious cheese. And cheese in a form that everybody will love; it's simple, satisfying, and really easy to make.
And
the dough keeps quite well in the fridge for several days - what could be better?
My inspiration came from
here
, though I have changed things a little, including the name. I refuse to name anything I bake 'Cheese Busters', although the mythology behind that name is certainly true - you will eat enough of these to 'bust your belt'. Regardless of it's accuracy, I will not use the name. So cheese biscuits it is! These are great for hitting that midnight craving square on (which is when I made them the first time) and the beauty is that you can size them to whatever suits you - I prefer them small, but you might like them bigger. I also don't go in for any unnecessary rolling out or cutting, like the original recipe calls for - so I just roll them into balls and squish them down with a fork. Ta da! Perfect round biscuits with minimum effort. Just a note though, they do go stale pretty quickly, so that is why I prefer to only cook up as many as I want at a time, and leave the dough in the fridge for the next craving. That way they're always perfect.
On with the show.
Cheese Biscuits
8 tbsp soft butter
2 cups flour
2 1/2 cups grated cheese
1 tsp salt
1/2 tsp freshly ground pepper
1/2 cup diced up ham (optional)
Milk
1. In a bowl, rub the soft butter into the flour. Or, if you're like me and completely forgot to do that and just dumped the flour
and
cheese into the bowl, you can just rub it into that mixture too, and it will work out the same. Did I mention this recipe was easy? Well, it's pretty fool proof, too.
2. Mix in your salt and pepper so that everything is nice and evenly mixed. This is where you can add in the ham, or any other additives that you've chosen. I think some fresh basil would be great in these, too.
3. In with the milk! Now, I haven't given a measurement for this, because I find that it varies. Start off with splashing about three tablespoons in and mixing - you'll find that the dough comes together very quickly. If you don't find that the dough is combining well enough, add a bit more milk in - but be careful. The dough should be pretty firm to the touch, and slightly sticky from the flour.
4. You can roll it straight into balls and cook it from there, or you can wrap it in some gladwrap and refridgerate it until you're ready to cook it. I took the second option, because I was cooking dinner at the same stage, and then whipped them out a little while later and cooked them, so that we had something light to nibble on when the full dinner bellies had worn off. I also only used about half of the dough; the other half is still sitting wrapped up in my fridge.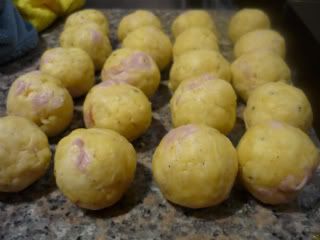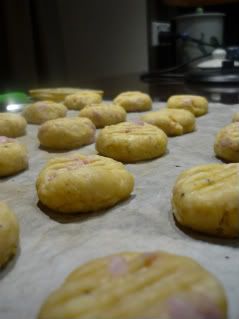 5. Place them in a preheated oven (fan bake, 180 degrees celcius) and cook until light golden brown. Remove from the oven, and let cool for a couple of minutes. These are so delicious while they're still warm. Although they're pretty awesome when they're cold too.