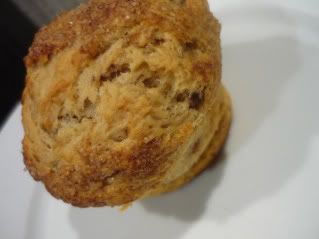 Yesterday was a public holiday in my region of the country, and one of the two aunts who lives elsewhere than our town, is down with her little babies. So my mother decided that she would have the family to brunch. By the family I do mean The Family ... children, aunts, uncles, grandparents. Though not even half were able to make it, there were still eleven adults and four children. You know, average breakfast for fifteen. Anyway, we did brunch (rather uneventful, and came together easily!), and then I decided we needed something sweet to eat later with a cup of tea, or coffee. I had some cookie dough in the fridge, so Harriet and George (six and two, cousins) helped me roll them out and put them in the oven. But I also had some bananas left over from my baking efforts on Saturday (to come), so I decided to whip up some muffins.
Usually these muffins are simply banana and chocolate chip, and they're good like that. But Nicola (one of the many aunt's) shared a trick she uses when baking for the shearers on her farm... put a piece of caramello chocolate in the middle. Genius! Who doesn't love caramel? And this method is so simple! So I sent my father out to buy eggs and chocolate, and while he was away, set the 'helpers' to mashing banana.
I did most of the banana mashing.
Banana, Chocolate Chip and Caramel Muffins
4tbsp butter, melted
1 1/2 c milk
1 c semi packed brown sugar
4 c flour
4 small - medium bananas, mashed
2 eggs
6 tsp baking powder
1 c chocolate pieces
24 pieces of caramello chocolate
Topping
1/2 tsp ground cinnamon
5 tsp sugar
1. Put everything in a bowl, and mix. Just a tip though, add the melted butter last so it doesn't have time to set. Just make sure you don't pour it on the chocolate.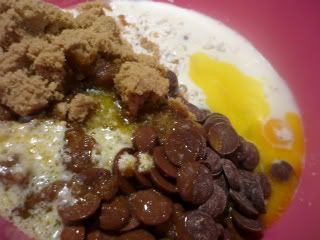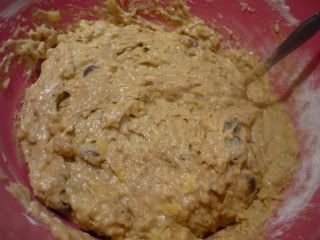 2. Get two small muffin trays, and fill each cup half way. Once that is done, place a piece of the caramello chocolate in the middle of each spoonful of mixture. Top with another spoonful, so that the mixture is even with the top of the cup.
3. In a small bowl, mix together the ingredients for the topping, and then sprinkle a little on top of each muffin.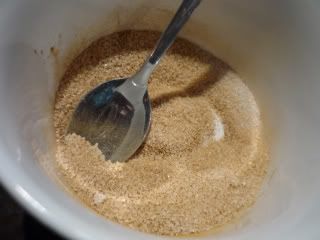 4. Place them in an oven preheated at 180 degrees celcius, and bake for around 10 minutes, or until the muffins are firm-ish to the touch, and will bounce back quickly when you poke them gently.
5. Eat them while the're still warm. You can put butter on them, but you won't really need to. They're quite a moist muffin, with all that banana and chocolate in there.
See the caramel?