Chai spiced cakes seem to be everywhere these days, and so after seeing picture after picture after picture, I decided that I needed to tackle this unusually flavoured cake. When my mother told me we were having family friends to dinner, I had the perfect excuse, because what is better than going somewhere for dinner? Going somewhere for dinner and dessert.
I'd heard a few horror stories about how easy this type of cake was to over beat, or the cake not rising at all, so I was a little nervous about making this. After all, I intended to serve it to people. I didn't need to worry though; things came together wonderfully, even with my additions and tweaking. And here is the part where I follow the majority of people who have tried these cakes and tell you how amazing it was. Goodness, it was divine. It was delicately spiced with a light, slightly dense sponge that was so delicious and easy to eat. The honey and ginger icing was the perfect accompaniment; the ginger gave it just a little kick and the honey suited the spices just perfectly (after all, it makes a great sweetener for chai tea).
Unlike most recipes, I didn't want my cake to be a proper cake (large, layered and overwhelmed by icing), because of the way in which I intended to serve it, so I split the mixture into two loaf tins and added walnuts. It ended up something like a tea cake, and was perfect with a hot drink and yogurt (or cream) after dinner.
Chai Spiced Tea Cake
1 1/3 cup milk
6 chai tea bags
4 whole eggs
2 egg yolks
2 tsp vanilla essence
2 3/4 cup flour
2 cup sugar
5 tsp baking powder
1/2tsp cinnamon
1/2tsp nutmeg
1/2tsp cardamon
1/2tsp salt
225g butter, melted.
3/4 cup roughly chopped walnuts
1. Simmer your milk, and when it is nice and warm, add your teabags and remove from the heat. Let steep for five to ten minutes. When you remove the teabags, be sure to squeeze out all the milk from the bags, so as to get as much of the chai goodness as you can.
Chai milk.
2. In a bowl, combine all your dry ingredients (flour, sugar, baking powder, spices, salt, walnuts), then add your eggs and warm milk, then mix. When all is combined, quickly mix in your melted butter (don't beat excessively, just enough to combine).
3. Pour your mixture into your chosen tin - loaf, cake, muffin, cupcake etc - and bake at 180 degrees celcius. I chose to split my mixture between two loaf tins, and the cooking time for those was approximately forty minutes, but of course, be sure to check the cake regularly (by using the touch test).
Ready to be baked.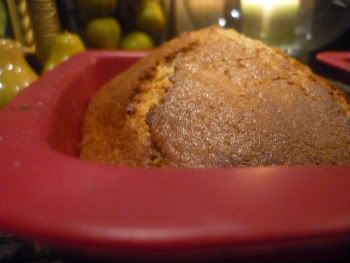 Fresh out of the oven.
Honey Ginger Cream Cheese Icing
1 - 2 cups icing sugar
100g cream cheese
1/3 cup honey (I used manuka, as that is all we had)
3tsp powdered ginger
1 - 3tbs milk
1/4 cup roughly chopped walnuts (for decoration).
1. Add your cream cheese, honey, ginger and one tablespoon of milk, and mix these all together.
2. You can now add your icing sugar, slowly until you have a consistency that you are happy with. If you need to, add more of the milk.
3. Ice the cake generously and sprinkle over the walnuts - as you can see from my photos, I didn't bother with perfect icing, and let it drape deliciously all over the place. This is quite a soft icing, so if you want it to do as you say, you'll need to add a lot of icing sugar, which will detract from the honey and ginger flavours.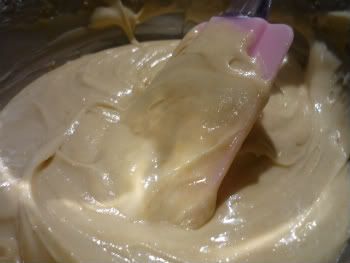 Decadent icing.
4. Slice and serve with either yogurt or cream.
Begging you to cut into it and eat it all!
Sitting on my christmas present from my grandparents (love sandwich plates - great for everything!).