I mentioned in my last post, that my father had turned fifty two. Like most men, he is ridiculously difficult to buy for, and when I asked him if he wanted anything, he told me just to write
Happy Birthday
on a piece of paper. Well, that didn't happen; I got him a proper card, and decided to bake him a whole heap of his favourite baked item. Cupcakes. And by 'a whole heap', I mean eight dozen. That's right.
Eight Dozen.
My father loves cupcakes. He also hates icing. That makes it easy when it comes to freezing them (and most of this extra large batch were frozen), but it also makes them very boring. So I grabbed a dozen and iced them for my mother and me. Although, in saying that, I do love a plain cupcake seconds out of the oven, when the top is slightly crunchy and the inside is all air and light. Yum.
Vanilla Cupcakes.

125g butter
1/4 cup caster sugar
1tsp vanilla essence
1 cup flour
2 eggs
3tsp baking powder
2 - 3 tbsp milk
1. Cream the butter and sugar. Room temperature butter is best for this, but I very rarely remember to take it out and measure it before I want to bake, so I just zap it in the microwave for a little bit.
2. Mix in all the dry ingredients.
3. Eggs and vanilla go in now - don't beat too much, just enough to combine.
4. Start adding in the milk a little bit at a time - you may not need all the milk. The cake batter should look quite light and fluffy, with lots of air bubbles when you spoon it out of the bowl and into the papers.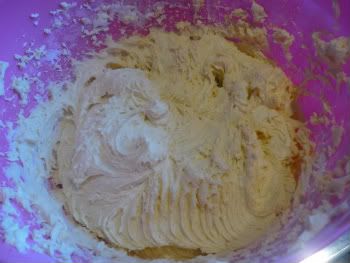 5. Spoon into cases and then put into the oven at 180 degrees celcius until they are done. Test them the way you would any other cake - touch gently and if they bounce back quickly, they're done.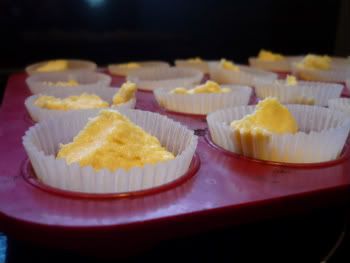 Ready to go into the oven.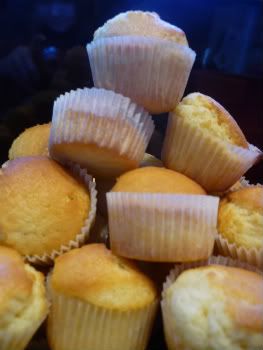 Cupcake tower!
Tower close up.


Milk Chocolate Ganache:


200g milk chocolate buttons.
1/4 cup heavy cream.
1. In a saucepan, heat chocolate and cream over low heat until the chocolate is melted and well combined. You want it to be quite thick and glossy.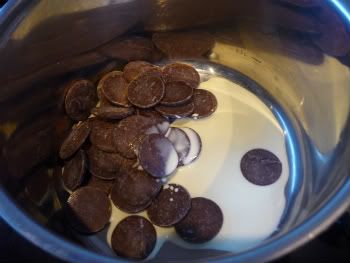 2. Put into an piping bag and ice.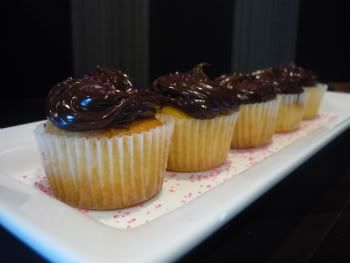 Sitting pretty.