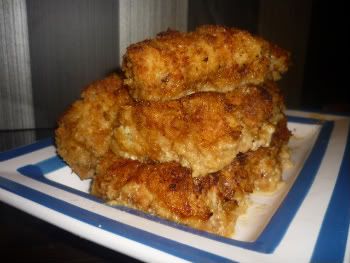 Remember the chai cake that I served as desert earlier this week? Well, this is what came before it. Though they are calling 'wellingtons', the term can really only be applied very loosely. They have a crunchy coating, but it's not a pastry. There is a stuffing, but it's not around the meat. So, just be prepared, they're probably not what you would serve to a hard and fast wellington connossieur. However, as those I feed are not at all such, I quite happily plied my victims with them, and was instructed to inform you all that they were very happily received and more than tasty enough. I had to agree – though I'm never sure if that is because I made them, and am naturally inclined to like them. In saying that, though, I always find that I am more critical of what I make than other people. So it's always very confusing. Either way, I found them delicious; they were just the right mix of crunchy and crispy, with soft, cream cheese moist pork on the inside. Yum.
Panko Crusted Stuffed Pork Wellingtons
Serves five adults

100g cream cheese
12 medium button mushrooms, sliced
3 rashers of bacon, diced
1 glove of garlic, crushed
1 bunch of spring onions, diced
Salt and pepper to taste
16 pieces of pork schnitzel
1/2 cup of plain flour
2 eggs
1-2 cups of panko crumbs*

*Panko are a course, japanese bread crumb. They give a much crunchier bite to crumbed dishes, and are awesome.

1. In a pan, place your garlic, buttons and bacon and cook with a big dollop of butter. You need the butter, trust me. What is better than browned butter in cooking? Nothing. Nothing at all. So do as I say.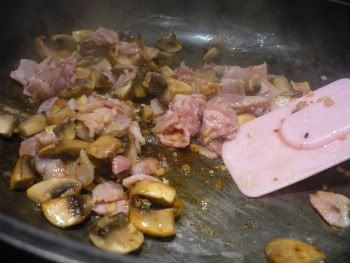 2. When cooked, remove the pan from the heat and let the mushroom mix cool, before putting into a bowl and mixing with the cream cheese and spring onions to form the yummiest stuffing ever. Chuck in your salt and pepper here too.

3. Lay out a piece of schnitzel and place a generous teaspoon of the stuffing about 2 cm down from the top of the meat, and in the centre. Then roll the top over the mixture, and fold in the sides, then roll the rest of it up. Repeat until you have no schnitzel left.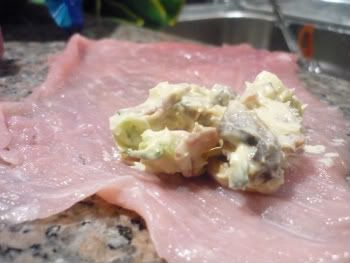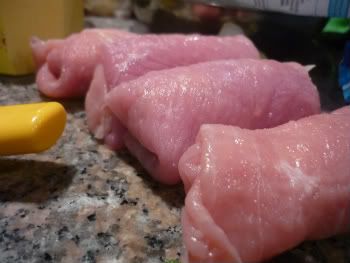 4. Now comes the messy part. You have to dredge every wellington in flour, then dip it in the egg, and then finally in the panko. The panko is really lite weight, so it will stick to the egg wonderfully.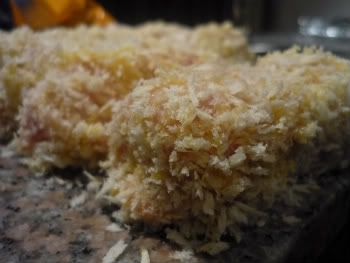 5. In a pan, heat about enough oil so that it is about half an inch deep. You can add butter in here, too, so that you get that buttery taste, but the oil will stop it from burning, so you won't get that bitter, gross taste. While you're at it, turn your oven to 180 degrees celcius, so that it can heat up.
6. Shallow fry each wellington until all sides are a nice golden brown, then pop on another tray and put into the oven to bake for fifteen to twenty minutes. Then pile them onto a plate and serve them to whatever hungry hoard is waiting at your table. I served these with baby beans and feta mashed potato. When you cut into these, you will find that the cream cheese has melted away, but as it had nowhere else to go, it's flavoured the meat beautifully.